CAST IRON TIPS
NEVER clean in dishwasher. Follow cleaning instructions before first use.
For best performance, always pre-heat your Victoria cast iron before using on low to medium heat. For searing, allow your iron to heat for 4 to 5 minutes.
Thermal shock can warp iron. Do not expose your iron to intense thermal changes such as putting it under cold water while still hot from cooking or getting a very cold pan hot too quickly. All temp changes should be slow and steady.
Use mostly low to medium heat. High heat can cause smoke and food to stick. Delicate foods like eggs should be cooked on low.
Cast iron handles get hot, use protective mitts & trivets.
You can use heat-safe wood, bamboo, nylon, and even metal utensils. However, never use knives to cut directly on seasoned iron.
Cooking oil can be: Palm, Flaxseed, Coconut, Canola, Crisco, or other edible oil.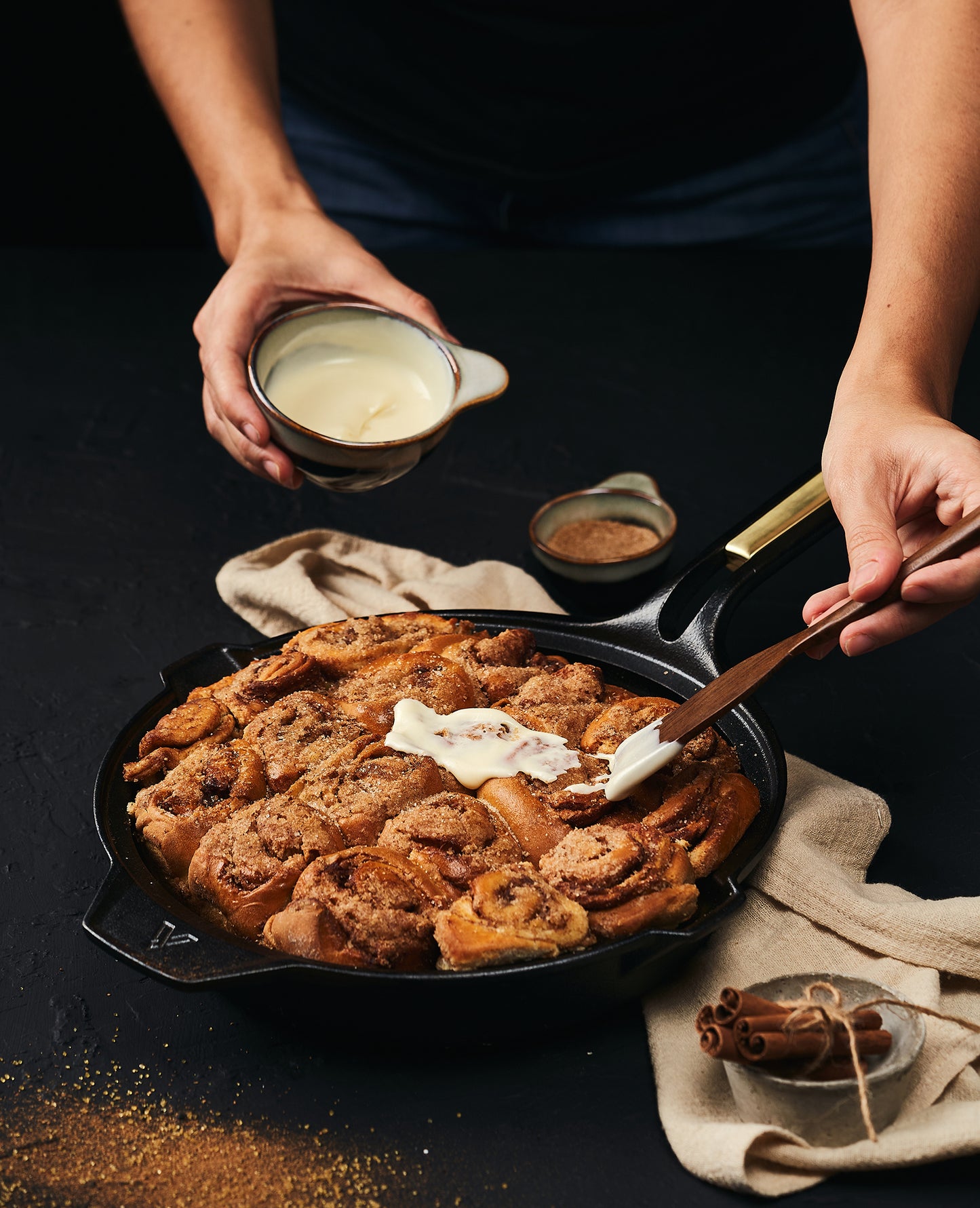 Occasionally, you may notice a dark residue when pat-drying your iron. If the residue is gunky, you may have baked-on food that needs to be thoroughly scrubbed and cleaned off. If it's very thin and oily, it's just the seasoning reacting to foods. Wipe off with lint free cloth. It will disappear with regular use and care.
Proper care & seasoning will make your cookware progressively more non-stick.
Acidic foods (citrus, beans, tomatoes) can weaken the seasoning. Avoid cooking these foods until the cookware is very well seasoned.
Suitable for all stovetops including induction, however, NEVER slide cookware on glass or ceramic cooktops to avoid scratches.
Not suitable for the microwave.
Some foods may stick the first few times of use. Use a little extra cooking oil until the seasoning is strong and settled.
Due to sand molding and traditional practices, each cast iron piece is unique. Your cookware may have some irregularities that are purely cosmetic and do not affect the use of the product.