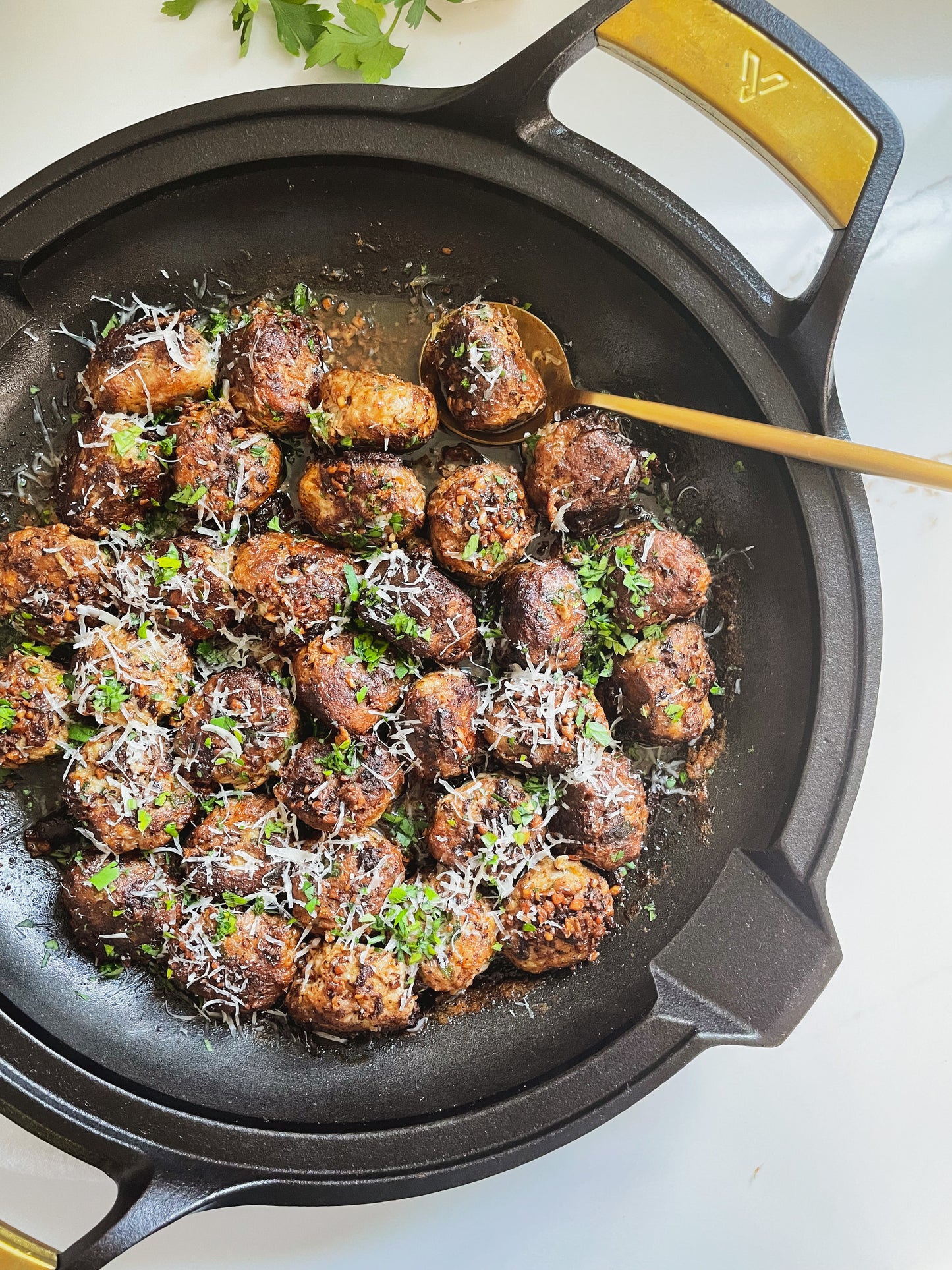 Garlic Butter Meatballs
Ingredients
Garlic Meatballs
2 pounds of ground turkey, beef, or chicken
1 small yellow onion, finely minced (about a 1/2 cup)
6 large cloves of garlic, finely minced
1 large egg
1/2 cup of parmesan, finely shredded
1/4 cup of fresh parsley, finely chopped
Salt and black pepper


Garlic Butter
8 tablespoons of butter
6 large cloves of garlic, finely minced
2/3 cup of stock (turkey, beef, or chicken)
1/2 cup of parmesan, finely shredded
Fresh parsley, finely chopped

You will also need a SIGNATUREseries Cast Iron Skillet.
Instructions
Combine the ground turkey, beef, or chicken with minced onion and garlic, a large egg, fresh parsley, finely shredded parmesan, and a large pinch of salt and black pepper in a large bowl.
Form the mixture into meatballs (about 2 tablespoons in size).
Place a large skillet over medium heat with a few tablespoons of olive oil.
Brown the meatballs on all sides, then transfer them onto a plate and set aside.
Add 8 tablespoons of butter into the skillet and use a wooden spatula to work the brown bits into the melted butter.
Add 6 finely minced cloves of garlic and cook while stirring for about 60 seconds or until softened and very fragrant.
Add 2/3 cup of stock and bring to a low simmer.
Add the seared meatballs into the sauce and simmer until they are fully cooked and warmed through.
Garnish with parmesan and fresh parsley.
Finally, Enjoy your flavorful Garlic Butter Meatballs.
This dish was crafted by Fallon Blackburn. For more of her recipes, check out her Instagram profile @espressoandlime.
Shop the tools