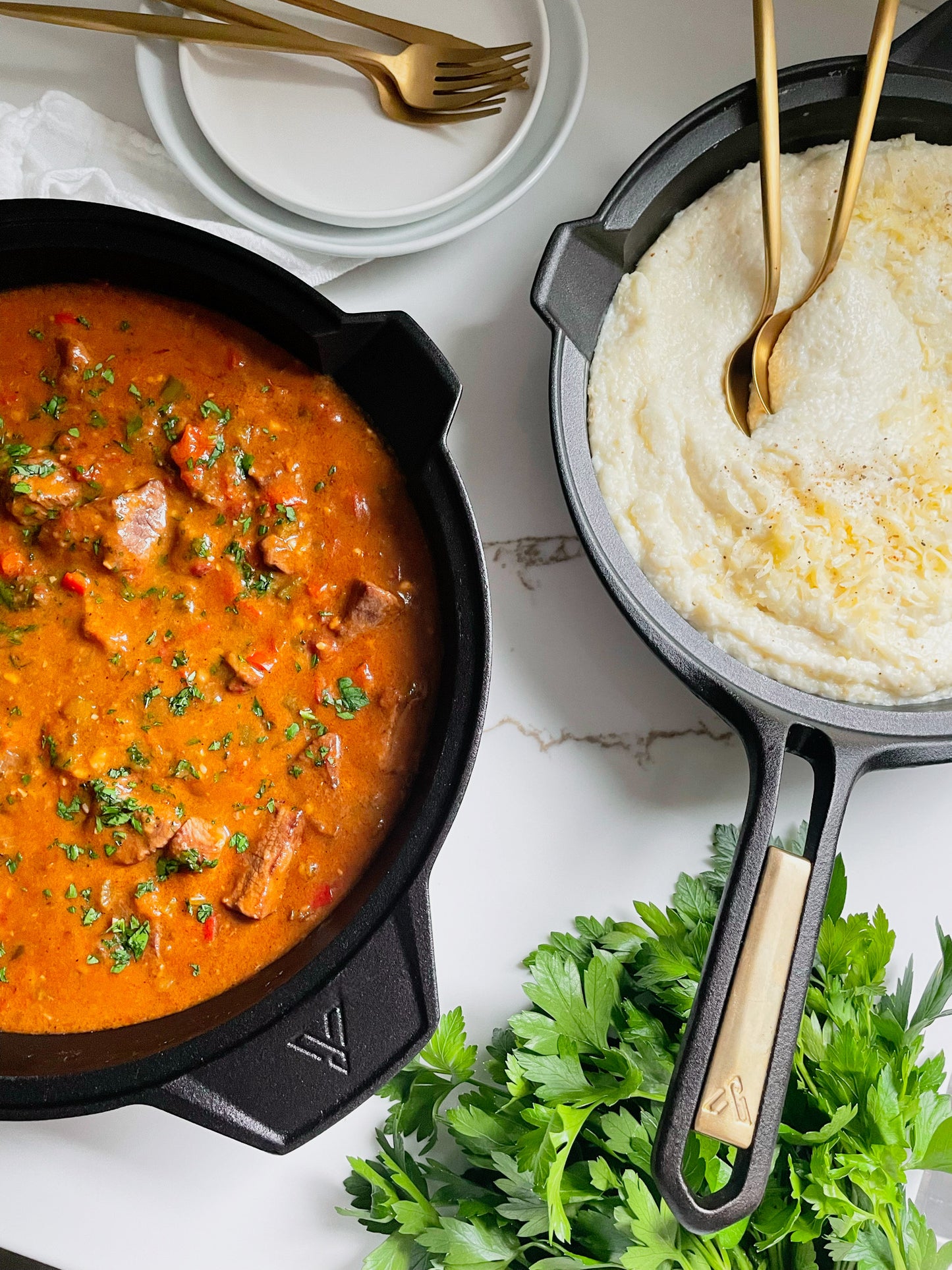 Grillades & Grits
Ingredients
Beef Grillades:
2 pounds of top round or tender chuck roast
2/3 cup of all-purpose flour
2 teaspoons of Cajun seasoning
Salt and black pepper
1/4 cup of vegetable oil
2 tablespoons of butter
2 celery ribs, chopped
1 large yellow onion, chopped
1 small green bell pepper, chopped
1 small red bell pepper, chopped
4 cloves of garlic, finely minced
1 tablespoon of Worcestershire sauce
1 tablespoon of tomato paste
1 tablespoon of balsamic vinegar
2 cups of tomatoes, diced
2 cups of beef broth
2 bay leaves
Fresh parsley, finely chopped (garnish)
2 tablespoons of all-purpose flour (optional)


Creamy Cheddar Grits:
2 cups of water or chicken stock
2 cups of whole milk
1 cup of grits
3 tablespoons of butter
1 1/2 cups of sharp cheddar cheese, shredded
Salt and black pepper
2 tablespoons of heavy cream (optional)

You will also need a SIGNATUREseries Cast Iron Skillet.
Instructions
For Beef Grillades:
Slice the beef into 1-inch cubes.
Combine 1/2 cup of all-purpose flour with 1 teaspoon of Cajun seasoning and coat the beef cubes on all sides.
In a large skillet over medium heat, add a few tablespoons of vegetable oil. Brown the beef cubes for about 2 minutes per side, then transfer them to a plate and set aside.
In the same skillet, add 2 tablespoons of butter and 4 cloves of finely minced garlic. Cook for 60 seconds, stirring consistently.
Add chopped celery, yellow onion, red and green bell peppers, and cook for about 5 minutes.
Stir in 2 tablespoons of all-purpose flour, 1 teaspoon of Cajun seasoning, Worcestershire sauce, tomato paste, and balsamic vinegar. Mix well.
Add diced tomatoes, beef broth, and bay leaves. Bring to a low simmer.
Reduce the heat to medium-low and return the browned beef to the skillet. Season with a pinch of salt.
Cover the skillet and simmer for about 90 minutes or until the beef is tender.
Garnish with finely chopped parsley.
For Creamy Cheddar Grits:
In a medium saucepan, bring 2 cups of chicken stock and 2 cups of whole milk to a boil.
Slowly whisk in the grits and simmer until they are tender.
Remove the saucepan from heat and stir in butter and shredded sharp cheddar cheese.
Season with salt and black pepper to taste. For added creaminess, you can stir in 2 tablespoons of heavy cream (optional).
This dish was crafted by Fallon Blackburn. For more of her recipes, check out her Instagram profile @espressoandlime.
Shop the tools