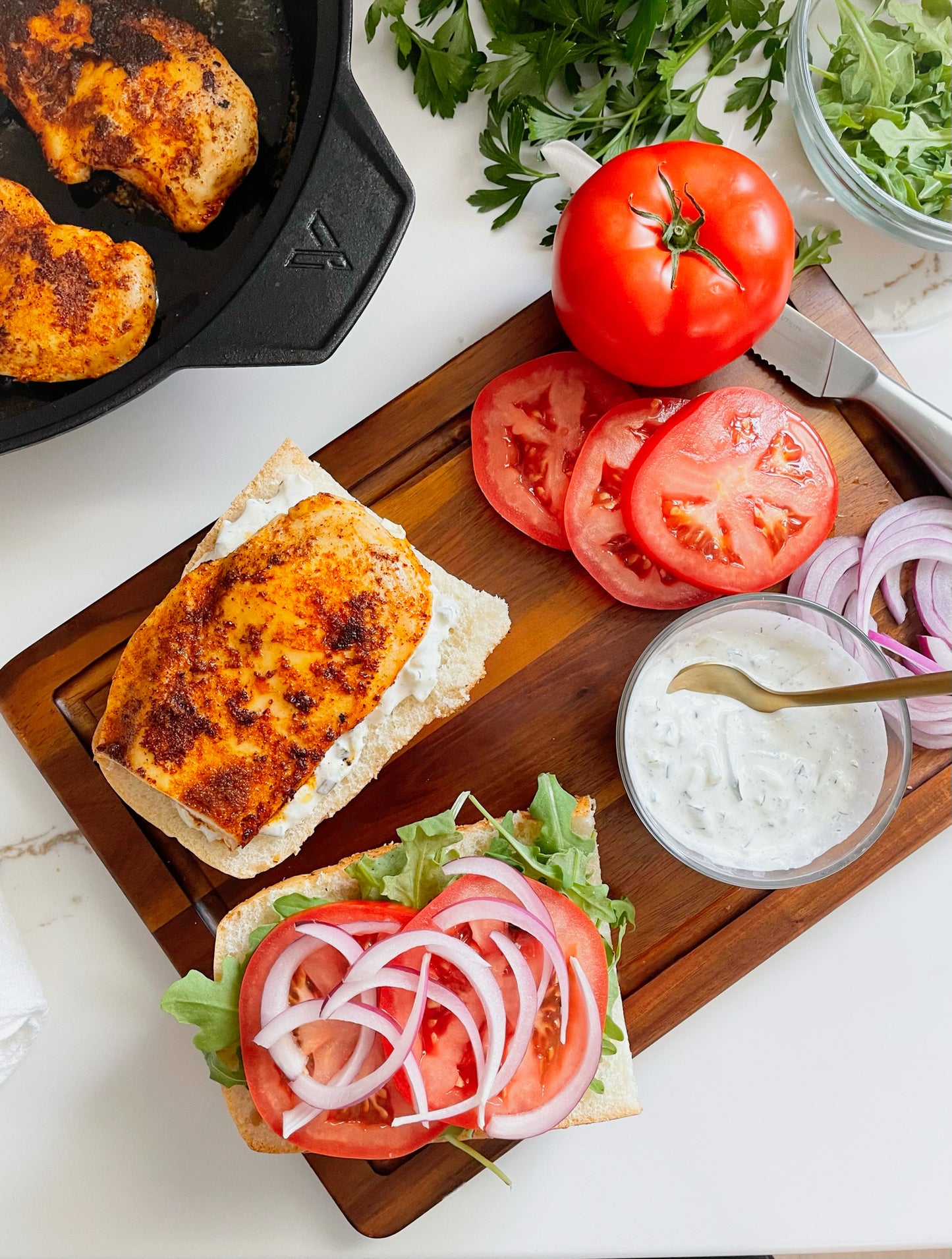 Blackened Curry Chicken Sandwich
Ingredients
4 boneless chicken cutlets
Olive oil
Your favorite curry spice blend
1 loaf of soft French bread
1 cup of tzatziki sauce
1 large tomato, thinly sliced
2 cups of arugula or leafy greens
1/2 cup of red onion, thinly sliced

You will also need a SIGNATUREseries Cast Iron Skillet.
Instructions
Begin by preparing the chicken. Take 4 boneless, skinless chicken cutlets and pound them until they are uniformly thin. Drizzle them with a touch of olive oil and generously coat both sides with your preferred curry spice blend.
Heat up a large skillet over medium to medium-high heat and grill the chicken for approximately 4-5 minutes on the first side. You'll know it's ready when it boasts a rich, golden-brown exterior.
Flip the chicken and continue cooking until it reaches an internal temperature of 165 degrees Fahrenheit, ensuring there's no pink inside.
Once cooked through, transfer the chicken to a cutting board to rest while you assemble the other ingredients.
Now, let's focus on the bread. Slice the loaf of soft French bread into quarters, then slice each quarter in half lengthwise. Scoop out some of the denser parts of the bread to create space for your sandwich fillings.
Spread a dollop of tzatziki sauce on one or both sides of the bread.
Place a blackened curry chicken cutlet on one side of the bread.
Load up your sandwich with a generous heap of arugula or leafy greens, followed by thinly sliced tomatoes and red onions.
Seal the deal by closing the sandwich and securing it with toothpicks to keep everything in place.
Finally, slice each sandwich in half and serve them alongside your favorite chips or side dish.
This dish was crafted by Fallon Blackburn. For more of her recipes, check out her Instagram profile @espressoandlime.
Shop the tools