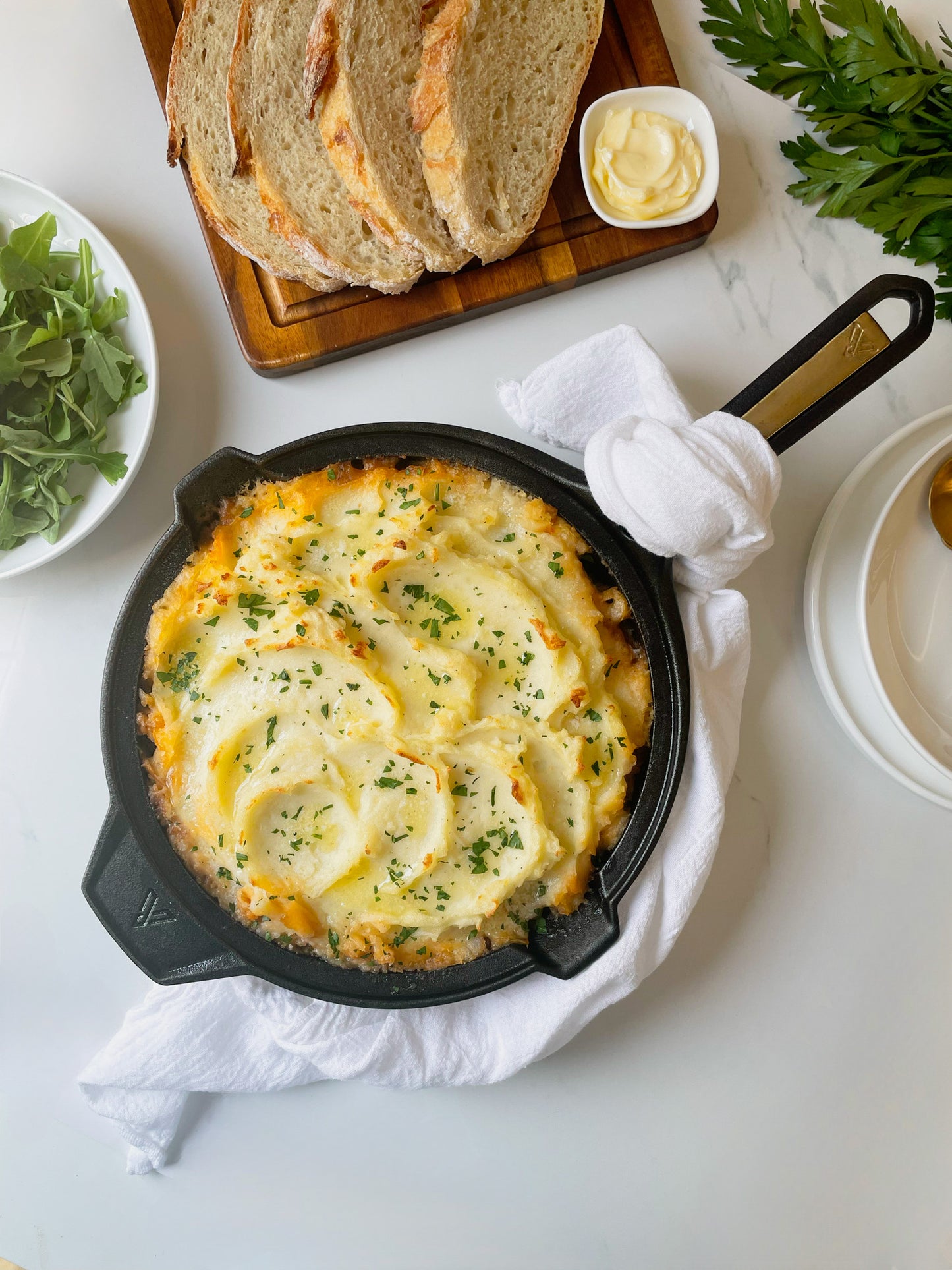 Shepherd's Pie
Ingredients
Lamb Filling
16 ounces of ground lamb
Olive oil
1 medium yellow onion, diced
2 cloves of garlic, finely minced
2 teaspoons of dried herbs (an Italian blend or thyme, parsley, and oregano)
2 tablespoons of tomato paste
1 tablespoon of Worcestershire sauce
1 tablespoon of balsamic vinegar
3 tablespoons of all-purpose flour
1 1/2 cups of broth (beef, chicken, or vegetable)
12 ounces of frozen peas and carrots
8 ounces of sweet corn, drained
1/3 cup of fresh parsley, finely chopped


Potato Layer
2 large russet potatoes, peeled and cubed
6 tablespoons of butter
2 cloves of garlic, finely minced
1/3 cup of heavy cream
Salt and black pepper

You will also need a SIGNATUREseries Cast Iron Skillet.
Instructions
Preheat your oven to 400 degrees Fahrenheit.
In a large skillet over medium heat, add a splash of olive oil and 16 ounces of ground lamb. Break the lamb into small pieces, season with salt and pepper, and cook until browned and cooked through. Transfer the lamb to a plate and set it aside.
Add diced yellow onion to the skillet and cook for about 5 minutes. Then, add 2 cloves of garlic and cook for another 60 seconds while stirring consistently.
Add 2 teaspoons of dried herbs, 2 tablespoons of tomato paste, 1 tablespoon of Worcestershire sauce, 1 tablespoon of balsamic vinegar, 3 tablespoons of all-purpose flour, and a pinch of salt and black pepper into the skillet. Mix until fully combined.
Pour in 1 1/2 cups of broth, stir until combined, and bring to a simmer. Remove the skillet from the heat and add 12 ounces of frozen peas and carrots, 8 ounces of drained sweet corn, 1/3 cup of finely chopped fresh parsley, and the browned lamb. Mix until everything is evenly distributed. Set aside.
Place the peeled and cubed potatoes into a large pot of water over high heat. Boil for about 15 minutes or until fork-tender, then transfer the potatoes into a strainer.
Return the pot to the stove, reduce the heat to medium, and add 6 tablespoons of butter and 2 cloves of minced garlic. Cook for about 60 seconds until the butter is fully melted and the garlic becomes fragrant.
Add the drained potatoes, along with 1/3 cup of heavy cream, and a large pinch of salt and black pepper. Mash until smooth and adjust salt if necessary.
Cover the lamb filling mixture with a thick layer of the mashed potatoes.
Bake uncovered at 400 degrees for about 20 minutes or until the filling is bubbling, and the potatoes are lightly golden at the edges.
Enjoy your homemade Shepherd's Pie, a comforting and hearty meal!
This dish was crafted by Fallon Blackburn. For more of her recipes, check out her Instagram profile @espressoandlime.
Shop the tools