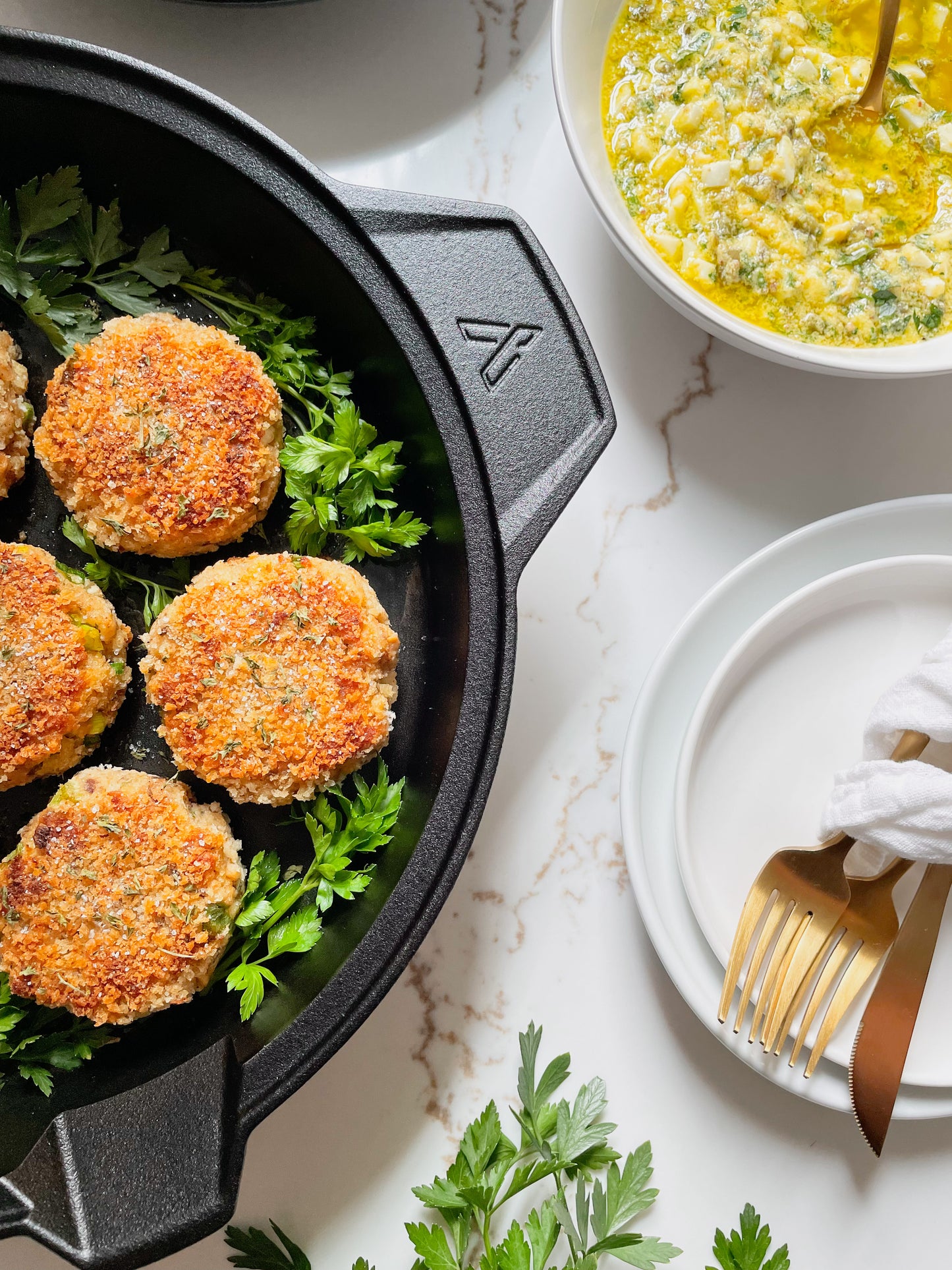 Salmon Croquettes with Gribiche
Ingredients
Salmon Croquettes
15 ounces of salmon, fresh or canned
2 large eggs
1 1/2 cups of panko breadcrumbs
1/4 cup of parmesan, grated
1 tablespoon of freshly squeezed lemon juice
1 teaspoon of lemon zest
1 teaspoon of onion powder
1 teaspoon of garlic powder
1/2 teaspoon of salt
1/4 teaspoon of black pepper
2 spring onions, thinly sliced
1/4 cup of fresh parsley, finely chopped
2 tablespoons of butter
2 tablespoons of extra virgin olive oil


Gribiche
3 large eggs, hard-boiled
1/2 cup of extra virgin olive oil
1 tablespoon of white wine vinegar
1 teaspoon of grainy mustard
Salt and black pepper
2 cornichons, finely chopped
1 tablespoon of capers, finely chopped
1-2 tablespoons of fresh parsley, finely chopped

You will also need a SIGNATUREseries Cast Iron Skillet.
Instructions
Gribiche
Divide the yolks and whites from 3 large hard-boiled eggs.
In a bowl, combine the yolks with 1/2 cup of extra virgin olive oil, 1 tablespoon of white wine vinegar, 1 teaspoon of grainy mustard, a pinch of salt, and black pepper. Whisk vigorously until the yolks are broken down, and the mixture becomes thick, creamy, and pale yellow.
Finely chop the egg whites, parsley, cornichons, and capers. Fold them into the egg yolk mixture. Chill in an airtight container until ready to serve.
Salmon Croquettes
In a large bowl, flake apart 15 ounces of salmon.
Add 2 large eggs, 1 cup of panko breadcrumbs, 1/4 cup of grated parmesan, 1 tablespoon of freshly squeezed lemon juice, 1 teaspoon of lemon zest, 1 teaspoon of onion powder, 1 teaspoon of garlic powder, 1/2 teaspoon of salt, 1/4 teaspoon of black pepper, 2 thinly sliced spring onions, and 1/4 cup of finely chopped fresh parsley. Mix until completely combined.
In a large cast iron skillet over medium heat, add 2 tablespoons of butter and 2 tablespoons of extra virgin olive oil.
Place the remaining 1/2 cup of panko breadcrumbs onto a small plate.
Roll about 1/4-1/3 cup of the salmon mixture into a ball, gently press it into a thick, round disk, and press both sides of the disk onto the panko breadcrumbs to lightly coat.
Once the butter and olive oil have preheated, brown the croquettes on both sides (approximately 3-4 minutes per side).
Serve warm with lemon wedges and the prepared gribiche.
Enjoy your delightful Salmon Croquettes with Gribiche, a flavorful and satisfying dish!
This dish was crafted by Fallon Blackburn. For more of her recipes, check out her Instagram profile @espressoandlime.
Shop the tools