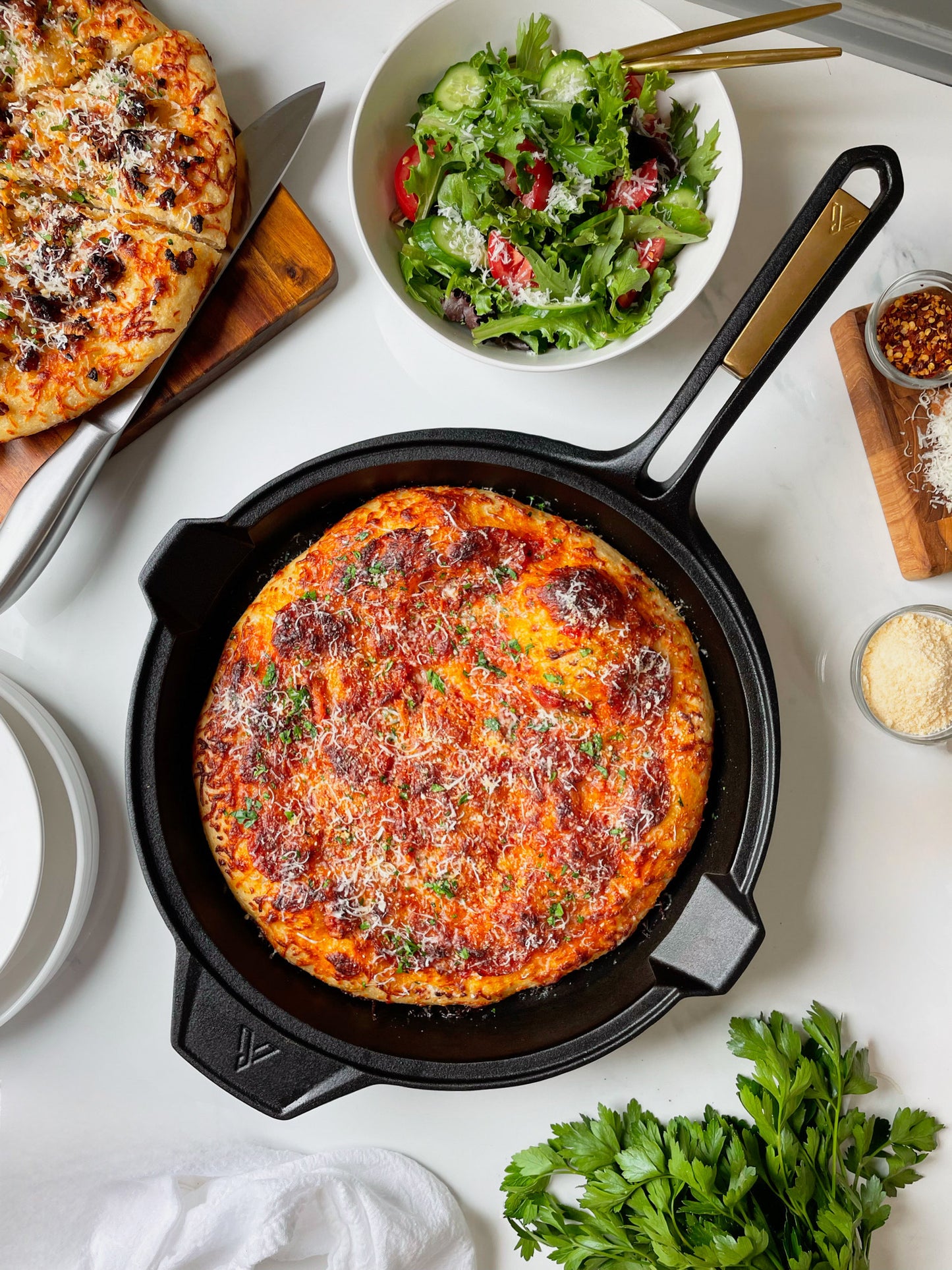 Crispy Pan Pizza
Ingredients
Pizza Dough:
20 ounces of bread flour (approximately 4 cups)
2 teaspoons of salt
1 teaspoon of instant yeast
1 2/3 cups of warm water
4 tablespoons of olive oil


Optional Toppings:
Marinara sauce
Shredded mozzarella, cheddar, or Parmesan cheese
Pepperoni or browned sausage
Chopped vegetables
Fresh parsley

You will also need a SIGNATUREseries Cast Iron Skillet.
Instructions
Combine 20 ounces of bread flour, 2 teaspoons of salt, 1 teaspoon of instant yeast, and 1 2/3 cups of warm water in a bowl. Mix until a loose dough forms, and no dry ingredients are left behind.
Cover the bowl with a kitchen towel and let the dough sit for 5-10 minutes.
Use a silicone spatula to pull the dough away from the bowl and fold it back into the center 4 times (once at 12 o'clock, 3 o'clock, 6 o'clock, and 9 o'clock). Cover the bowl for another 5-10 minutes, then repeat this process 3 more times.
Tightly cover the bowl with plastic wrap and let the dough rest at room temperature for 8-24 hours.
Add 2 tablespoons of olive oil into two 9"-11" cast iron pans and ensure all interior surfaces are coated with oil.
Divide the dough in half with oiled hands and gently form each half into a ball.
Place one half of the dough in each skillet, roll it around in the oil, and then flip the dough over to coat the entire surface with oil.
Gently press the dough out with your fingers to spread it a bit, but it does not need to reach all the way to the edge at this time.
Cover the pans with plastic wrap and let them rest at room temperature for 2 hours.
Preheat your oven to 450 degrees Fahrenheit with a rack set on the center setting.
Gently work the dough out towards the edges of the pan and press down any large air bubbles.
Cover the entire surface of the dough lightly with shredded cheese and then add your favorite toppings.
Bake uncovered at 450 degrees Fahrenheit for 16-20 minutes.
Transfer the pans onto a heatproof surface to cool for 10 minutes.
Carefully transfer the pizzas directly onto a cutting board
Slice into wedges, add a little more parmesan and enjoy!
This dish was crafted by Fallon Blackburn. For more of her recipes, check out her Instagram profile @espressoandlime.
Shop the tools