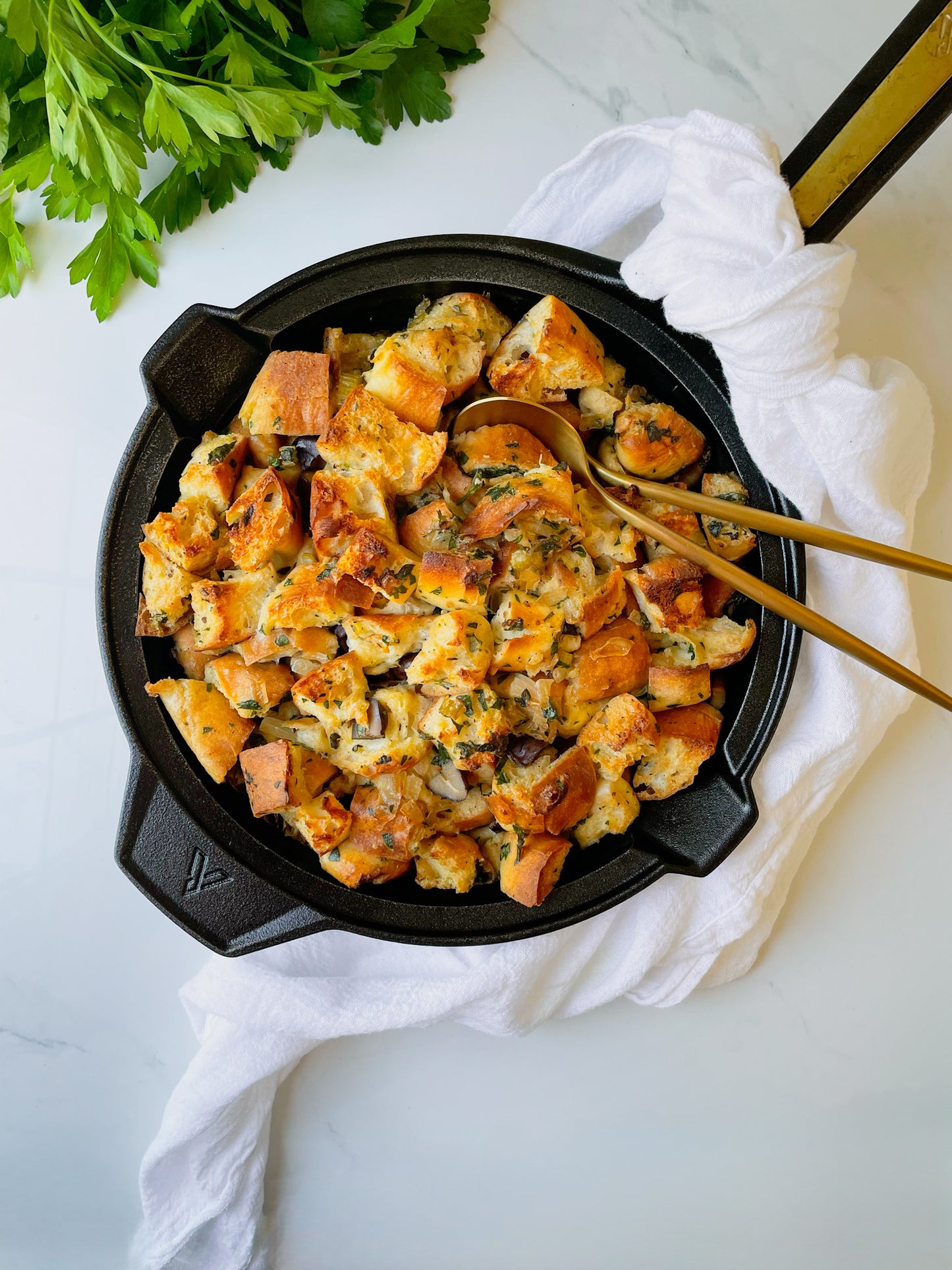 Roasted Chestnut & Herb Dressing
Ingredients
16 ounces of crusty bread
1/2 cup of butter
2 cloves of garlic, minced
1 large yellow onion, diced
2 large ribs of celery, diced
2 cups of broth (chicken, turkey, or vegetable)
1 1/2 cups of heavy cream
2 large eggs
5 ounces of roasted chestnuts, quartered
1/4 cup of fresh parsley, finely chopped
2 tablespoons of fresh sage, finely chopped
1 tablespoon of fresh rosemary, finely chopped
Salt and black pepper

You will also need a SIGNATUREseries Cast Iron Skillet.
Instructions
Preheat your oven to 350 degrees and grease a 12" deep cast iron skillet.
Slice a 16-ounce loaf of bread into 1-inch cubes, spread the cubes over a large baking sheet, and bake the bread for about 15 minutes to dry it out. Set the bread aside for now (leave the oven set to 350 degrees).
Add 2 tablespoons of butter into a large skillet placed over medium heat.
Add the minced garlic, diced yellow onion, and diced celery into the skillet and cook for about 5 minutes or until they have softened a bit.
Add 6 tablespoons of butter into the skillet, and once the butter has melted, add 2 cups of broth. Bring it to a simmer and then transfer the skillet off of the heat.
In a large bowl, whisk 1 1/2 cups of heavy cream with 2 large eggs.
Add the dried bread cubes, chestnuts, herbs, and a generous pinch of salt and black pepper into the bowl.
Pour the broth mixture over the bread and gently mix until everything is evenly distributed.
Transfer the dressing into the prepared skillet and press any exposed chestnuts down a bit (they can get tough if exposed too much during the bake).
Bake in a 350-degree oven for about 40-45 minutes or until golden brown and set in the center.
This dish was crafted by Fallon Blackburn. For more of her recipes, check out her Instagram profile @espressoandlime.
Shop the tools