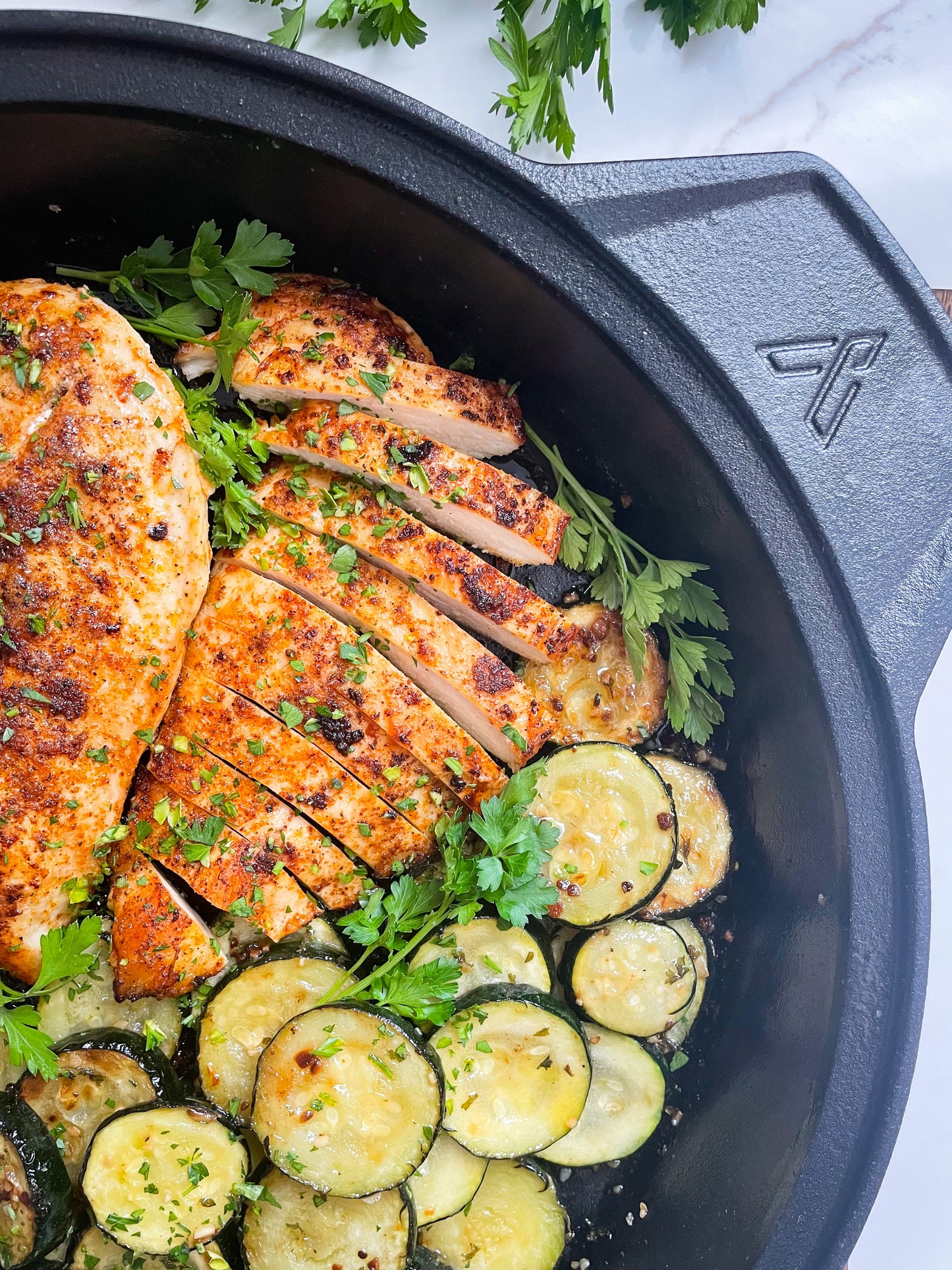 Cast Iron Grilled Chicken & Zucchini
Ingredients
2 boneless skinless chicken breasts, halved horizontally
Olive oil
1/2 teaspoon of garlic powder
1/2 teaspoon of onion powder
1/2 teaspoon of paprika
1/2 teaspoon of chili powder
1/2 teaspoon of seasoned salt
1/2 teaspoon of cumin
1/2 teaspoon of dried mustard
1/4 teaspoon of salt
1/4 teaspoon of black pepper
3 tablespoons of butter
4 small zucchinis, sliced
2 cloves of garlic, finely minced
Red pepper flakes (optional)

You will also need a SIGNATUREseries Cast Iron Skillet.
Instructions
Combine the garlic powder, onion powder, paprika, chili powder, seasoned salt, cumin, dried mustard, salt, and black pepper in a small bowl.
Slice the boneless skinless chicken breasts in half lengthwise to create thin cutlets.
Drizzle the chicken with olive oil and season generously with the spice blend.
Add a tablespoon of butter into a large cast iron skillet over medium heat.
Once the skillet is warm and the butter has melted, add the chicken in a single layer and cook without disturbing until the underside is golden brown.
Flip the chicken, add a tablespoon of butter, and cook until the chicken is cooked through with no pink and an internal temperature of 165 degrees. Transfer the grilled chicken onto a plate and set aside.
Add your last tablespoon of butter into the skillet along with 2 cloves of finely minced garlic and cook for about 60 seconds, stirring consistently.
Add the sliced zucchini and generously season with the spice blend and a big pinch of red pepper flakes (optional).
Cook until the zucchini is tender.
Push the zucchini off to the side of the skillet and return the chicken into the skillet to rewarm for a few minutes before serving.
Enjoy your delicious Cast Iron Grilled Chicken & Zucchini!
This dish was crafted by Fallon Blackburn. For more of her recipes, check out her Instagram profile @espressoandlime.
Shop the tools