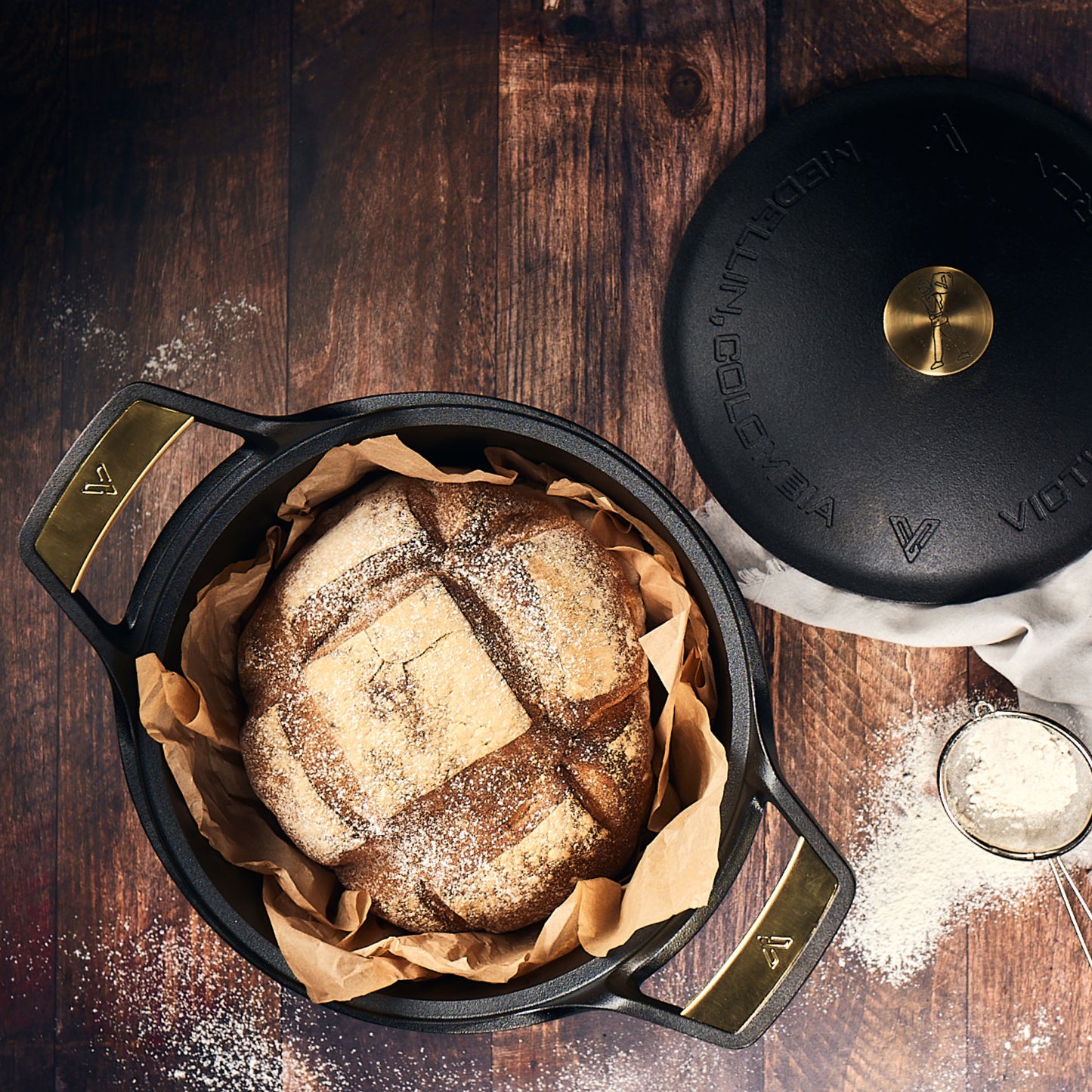 Homemade Dutch Oven Bread
Ingredients
450 grams of wheat flour
3 teaspoons of baking powder
3 tablespoons of powdered milk
80 grams of white sugar
1/3 teaspoon of salt
2 egg yolks
1 whole egg
30 grams of unsalted butter
1/2 cup of water
additional flour for kneading

You will also need a large bowl, your SIGNATUREseries Dutch Oven, a work surface, and a brush for applying the beaten egg yolks to the dough.
Instructions
Add 450 grams of wheat flour to a large bowl.
Add three teaspoons of baking powder and three tablespoons of powdered milk.
Mix in 80 grams of white sugar and one third teaspoon of salt. Mix all ingredients.
Add two egg yolks and one whole egg to the bowl with the rest of the ingredients. Mix in 30 grams of unsalted butter.
Knead the dough until all ingredients are well incorporated.
Add half a cup of water gradually and in small amounts, until the dough is no longer sticking to the bowl.
Sprinkle a small amount of flour on a work surface and knead the dough for an additional 10 minutes.
Let the dough rest for eight minutes and shape it into a ball.
Make cuts on the top of the dough.
Place the dough in your SIGNATUREseries Cast Iron Dutch Oven.
Brush the dough with the two remaining beaten egg yolks.
Bake in a preheated oven at 375°F for 20-25 minutes covered, and 10-15 minutes uncovered. Remove from oven and let cool. Serve.
Shop the tools